I know what you're thinking.
At first glance, the idea of juicing heirloom and specialty tomatoes might seem wildly extravagant. Downright decadent and completely impractical.
But honestly, it is nothing short of miraculous, and once you try it, I can promise you, you'll never look back.
Heirloom tomatoes are those wildly shaped, rainbow spectrum specimens of tomato gracing gourmet grocers' shelves seasonally with hugely inflated price tags. Even at Farmers Markets they fetch a pretty penny, and with good reason.
It's true they come in a wonderful variety of shapes, sizes and colors. They look amazing and make any farm stand positively glow with color and beauty… But that's only a shadow of the real reason for their hefty price tags.
The real reason for that high sticker price is all about the flavor. In fact, it is that incredible flavor that convinces people to overlook the odd shapes, awkward curves and corners and sometimes completely impossible-to-slice dimensions of these delicious fruits.
It's the flavor that brings out the buyers for the top chefs, and sometimes the chefs themselves, to gather up the best of the heirlooms, Pink Berkeley Tie Dyes and Aunt Ruby German Greens at the crack of dawn as their Farmers Market opens…
Comparing these flavors to a regular store bought tomato is like comparing a fine French wine to a bottle of Ripple, and that is no exaggeration.
Which, of course, implies that there is an art to this culinary wonderment. So begin your journey into the world of these most delectable of delicacies by talking to the people who grow them. Ask them about their own favorites, or which varieties are the most popular with their customers. And watch the pro's at work. Come early and follow the down to business restaurant buyers around a bit, or at least keep your eyes peeled and your ears open among more experienced buyers.
Ask for samples. Try them out. Buy carefully selected smaller versions when available to learn what you like, and by all means, if you have the time and space, grow the ones you love the most yourself.
Now let's talk about juicing them.
If you've never juiced any tomatoes before, I suggest you start with your favorite local tomatoes.
Whether they are from your own or a friend's garden or the nearest farm stand or Farmers Market, make sure they are local and have not been refrigerated. Refrigeration kills tomato flavor.
Toss in some lemon cucumber, celery and a bit of fresh basil and parsley and you've got the most amazing summer cocktail ever invented.
The flavors of these juices will knock your socks off.
You can add a little sparkling mineral water for a little fizz, but it is so delicious just as it is, you probably won't even remember to try it.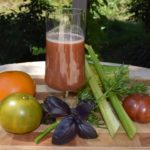 Simply Divine Summer Cocktail
On a hot summer day there is nothing quite as satisfying and purely delicious as this heirloom tomato juice cocktail.
Print
Ingredients
1

lb

cherry, heirloom or specialty tomatoes*

1

lb

lemon cucumber

1 to 2 medium large

4

oz

celery

3 to 4 small stalks

2

oz

carrot

1 small carrot

1

oz

fresh basil

1 large sprig

2

oz

fresh parsley

a few large sprigs
Instructions
Scrub the carrot. Rinse all the produce, and remove ends of celery if especially dirty. Shake out basil and parsley well. Cut cukes lengthwise into strips. Cut large tomatoes into chunks to fit into juicer.

Juicing Order: tomatoes, cucumber, basil, parsley, celery, carrot. Finishing with the celery and carrot will get all the bits of the softer ingredients through the juicer and into the juice.
Recipe Notes
* a mix of Berkeleys, Aunt Ruby's and Gold Nugget is absolutely out of this world.
You can certainly substitute regular cucumbers for the lemon cucumber if you cannot find lemon cucumbers, but if you do, then add half a fresh lemon to the juice to brighten it up.
Health Benefits
The cucumber combines with the natural sodium of the tomatoes and celery to deliver hydration directly to the cells. This juice is terrific for internal moisturizing for healthy supple skin. The tomato is high in lycopene, which has been shown in studies at Harvard and other major universities to protect against cancer and stroke. Lycopene has also been shown to reduce the risk of breast cancer, atherosclerosis and myocardial infarction.
Heinerman's famous juice ingredients health benefits lists tomato as a primary juice to support the liver and cucumber as a skin toner. This juice is high in vitamin C, combating free radicals which can cause skin damage, wrinkles and other chronic conditions in the body. Parsley helps to alleviate allergy symptoms and helps cleanse the blood. This juice provides an excellent supply of Vitamins A and C, and very good supply of Vitamin K. It also supplies a full 25% of the daily requirement for folate, a critical nutrient that many people cannot assimilate in its synthetic form, 'folic acid'.
Nutrition Information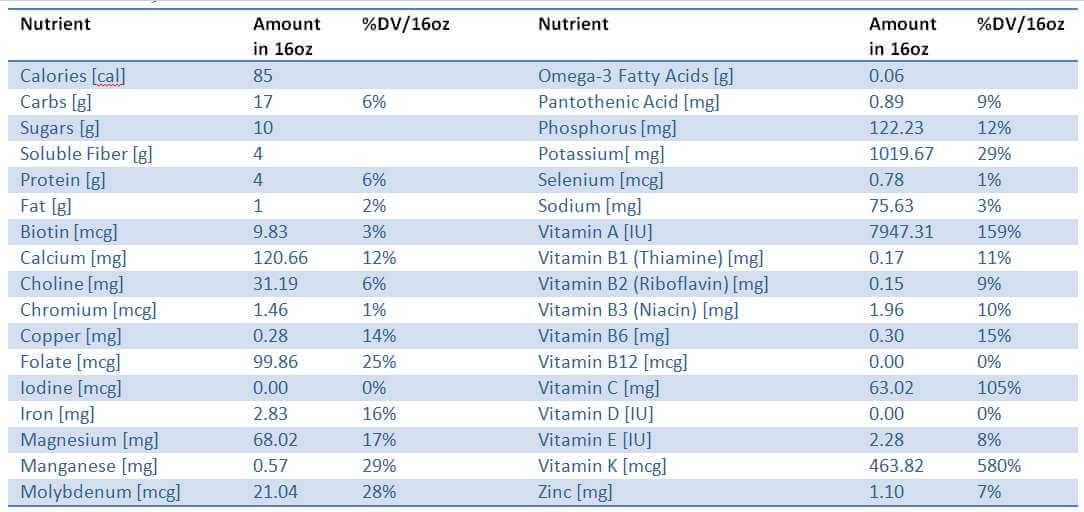 It's Time to Talk Tomatoes
While it's true, as tomato growers, many people never stray past Early Girls or Big Boy Beef Steaks, I'm here to tell you that until you've ventured out into the ultra sweet and high acid varieties of tomato, you just haven't lived.
But tomatoes also come in cherry and large sized fruits and I would be remiss not to mention the cherry tomatoes that are great for juicing. For one thing, they are so easy to juice! You just drop them into the juicer whole – no work at all. Rinse, and juice. Done.
Cherry Tomatoes
Gold nuggets are a very popular cherry tomato variety and easy to spot by their golden orange color.
If you've never grown tomatoes, gold nuggets are perhaps the easiest to grow, tastiest and most prolific cherry tomatoes there are. They don't get wilts or diseases and they produce mountains of cherry tomatoes all season long.
Another great and easy to grow cherry tomato is the Yellow Pear. It is a major over-achiever, yielding hundreds of small pear shaped fruits with a distinct and pleasant flavor. It's very popular among cherry tomato lovers. It too is fairly easy to grow and will yield all season long, so is a great 'starter' tomato for new gardeners.
Specialty and Heirloom Slicing Tomatoes of Note
There are hundreds of varieties to choose from, but around our place there are some definite stand-outs that win the flavor contest every year. They are our tried and true favorites. They make amazing juices, as well as just excellent tomatoes, no matter how you slice them.
Pink Berkeley Tie Dye
Developed by Bradley Gates at Wild Boar Farms, this is truly a spectacular tomato. Flavor to swoon for.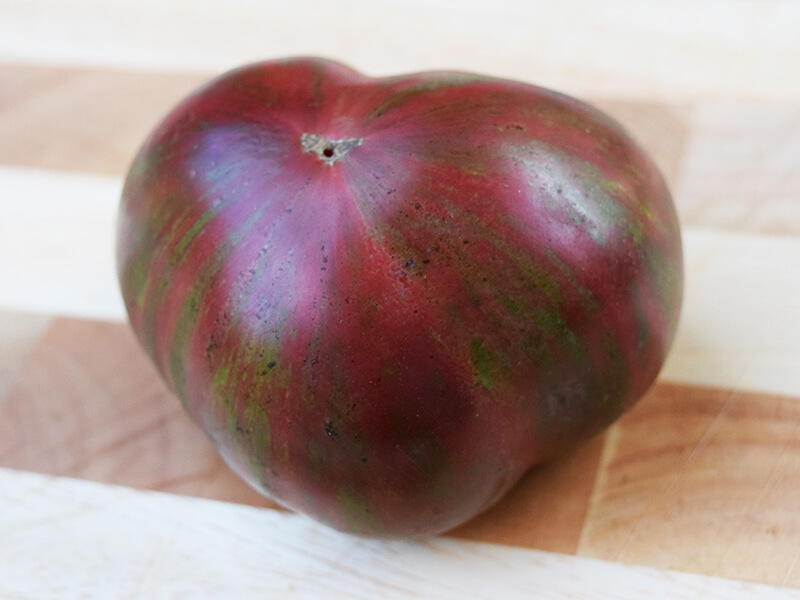 Aunt Ruby's German Green
A true heirloom, this tomato is lusciously juicy and tastes like liquid sunshine. Fruits range from medium to massive.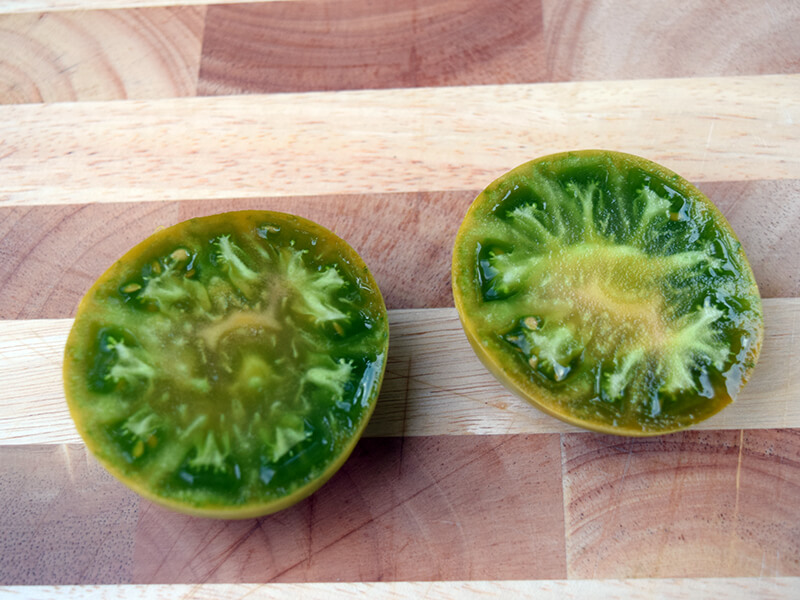 Ananans
This deep pink and yellow tomato is an heirloom beefsteak, not to be confused with Ananas Noir, which is a pineapple tomato variety.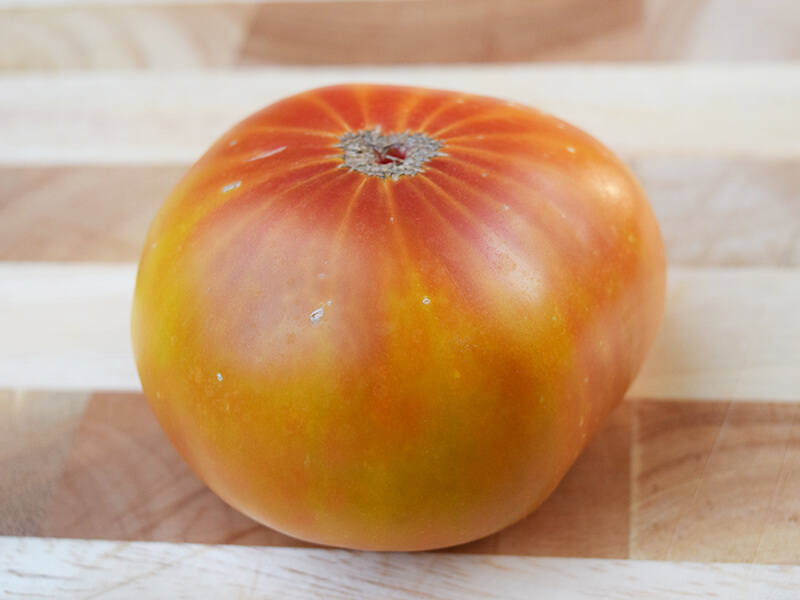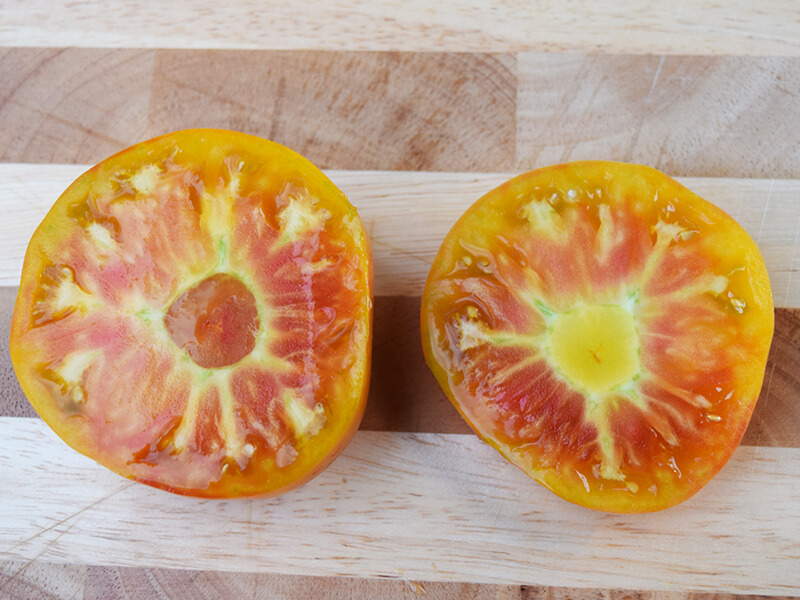 Pineapple Tomato
This yellow and red-tinted tomato grows to 2 pounds, is very sweet and fruity and makes amazing juice.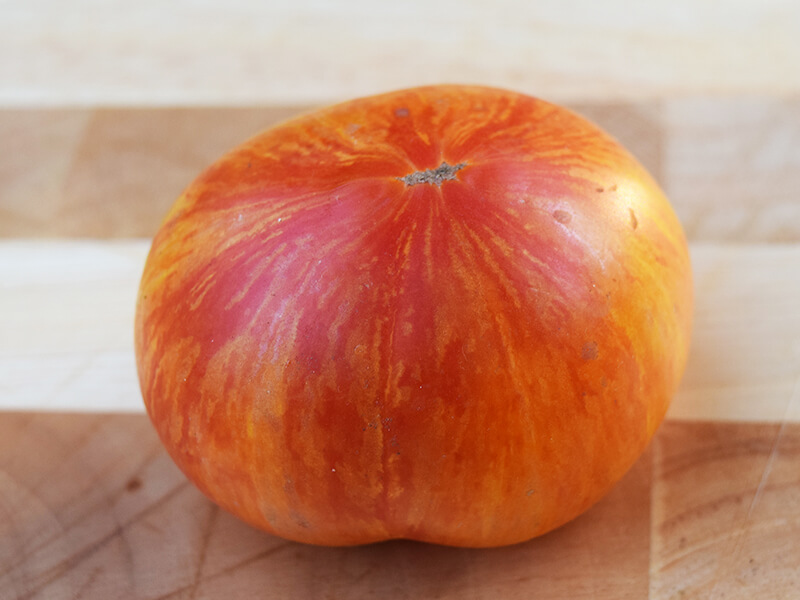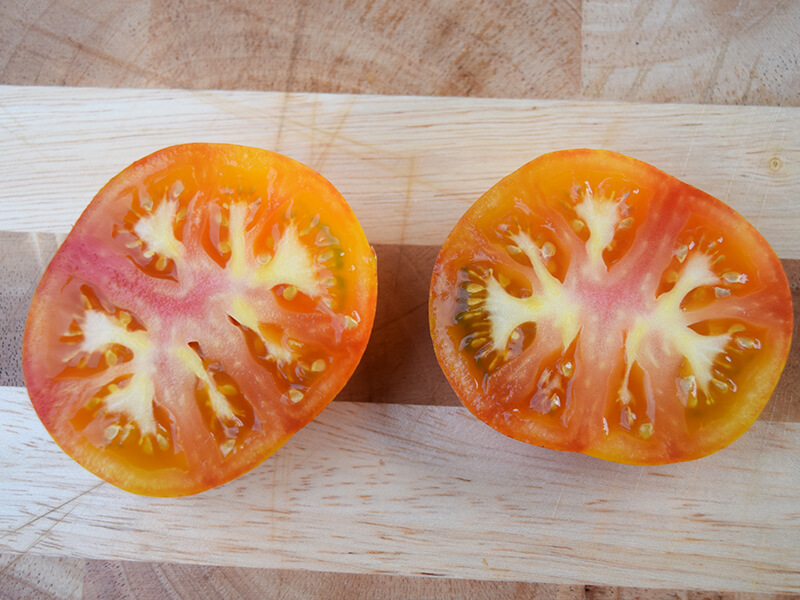 How to Get Amazing Tomatoes on the Cheap
When you purchase tomatoes of any kind at Farmers Markets, offer to buy more and see if you can get a discount. Remember, you are always free to ask.
Fresh produce is perishable. So offer to buy the fruits that have been set aside because they have split or do not look perfect. Farmers often set aside such fruits because they don't want them out on display. Some markets do have a special donation arrangement for food pantries and shelters, but that doesn't mean a farmer won't sell you a less than perfect fruit for a less than premium price.
Remember, the huge supermarket chains have trained everyone to be so concerned with appearance they miss the main event, which is taste. And if you're planning to juice those tomatoes, appearance is really secondary!
Another excellent strategy is to stop by the Farmers Market near the end of the Market day (check with local markets as hours vary widely from market to market). Offer to buy up split fruits, or to make a larger purchase at a discount – and then reap the bounty. You can also make arrangements to do this on a regular basis throughout the season and farmers will often set aside produce for you throughout the market day.
Visit the local community gardens. Many people who grow there depend on the food they grow to sustain their families, but as any gardener knows, there can be such an abundance of fresh produce in season that there is excess. See if you can find gardeners who would be willing to trade or make a little extra money to support their garden by selling you some of their excess.
Of course, the best option of all is to plant some tomatoes in your own garden, on a patio or even a balcony. Tomatoes are fairly easy to grow and offer incredibly large bounty for not a lot of work and space.
Find a comprehensive list of heirloom varieties with pictures and descriptions here:
http://www.heirloomtomatoes.bizland.com/varieties.htm