What better season than late summer to explore the vast array of specialty and heirloom tomatoes in your favorite Bruschetta?
Indeed, this time of year it is possible to incorporate specialty and heirloom tomatoes and specialty and heirloom basil varieties as well. Go completely crazy with late summer Bruschetta.
The ultimate summer salad, Bruschetta is made up of copious amounts of fresh basil, fresh chunky chopped tomatoes, a healthy sprinkling of feta cheese and a little oil and vinegar. Perfectly simple and simply divine, this Italian classic can be made a few minutes before serving, covered and left to ruminate its flavors for about 15 minutes and then served. Do not refrigerate, or you'll destroy all those delicate flavors, and do not make more than you intend to eat at the first serving. It won't keep and it is completely one hundred percent about the room temperature fresh ingredients it is made of.
A little salt, pepper and maybe a splash of lemon to go with that red wine vinegar and cold pressed virgin olive oil – but not too much of any of these, please. The stars of this show are the luscious juicy tomato chunks and the roughly chopped flavorful basil leaves.
In this version, we minced a good sized clove of garlic and tossed it with the tomatoes, basil and feta before dressing the salad and served it over fresh garden lettuce. A delicious alternative for those who are skipping the bread of the traditional Bruschetta.
To follow the traditional serving style, rub the open face of a cut clove of garlic over thin slices of your favorite baguette before toasting them lightly. Make 4 to 8 slices per person depending on the size of the baguette.
Pile the bruschetta on a slice of toast and enjoy. A little bit of heaven in every bite.
A gallery of some of this summer's best selections of fancy tomatoes:
ananas noir, aunt ruby's german green, pink berkeley tie dye, and pineapple tomatoes.
Mix up the basil too, with Greek, purple, Genovese, Lettuce Leaf and African Blue or black if you are lucky enough to have it in the garden or find it at the local marketplace.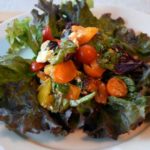 Late Summer Gourmet Bruschetta Salad on Garden Lettuce Recipe
The rainbow of colors and range of flavors from sweet to sassy and tart can virtually guarantee clean plates and an empty salad bowl before you even know what's happened.
Print
Ingredients
3

medium large slicing

tomatoes

try to select at least 2 different varieties of your favorite heirloom or specialty tomatoes, cut into 3/4 inch chunks

2

generous handfuls of

mixed basil leaves

de-stemmed and chopped coarsely.

4

ounces

crumbled feta cheese

Splash of

cold pressed virgin olive oil

Splash of

red wine vinegar

Pinch of

salt

A little

ground black pepper

1

clove

garlic minced

1/2

head of

fresh garden lettuce

washed, spun, and placed as a bed on each plate
Instructions
Toss the tomatoes, basil, feta, garlic and dressing. Add salt and pepper and cover. Set out on counter or table for 15 minutes before serving.

Wash and dry the lettuce and arrange on the plates.

Serve the Bruschetta over the lettuce.