Have you been bitten by the Hawthorn bug? It's surprisingly active this time of year. 😉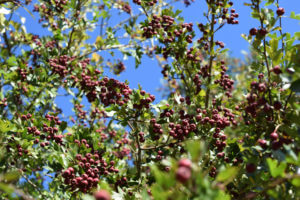 Berry laden branches nearly touching the ground with great swaths of little red dots covering fences, tangled in the lower branches of the oaks and marching up hillsides… Who could resist such easy pickings?
When you can fill a five gallon bucket in less than 30 minutes, the lure is downright irresistible.
And there you are, berry and leaf cluster laden bucket in hand, headed for the kitchen and the great Hawthorn extravaganza.
But before you get caught spending the better part of the rest of your week dealing with your bounty, here are some quick tricks to make fast work of your harvest and create some tantalizing and delicious healing foods and remedies perfect for the season.
First, set aside at least half the berries and all the leaves on wide flat trays for drying. Wash them by running them through a colander of cold water and shaking them well before placing them on the drying racks.
Cookie sheets with cooling racks set in them to raise the leaves and berries off the pan surface work great. No racks? Just spread parchment paper on the pans before spreading the leaves and berries to dry. If you use an oven, use it only after you've turned it OFF and the oven temperature reads 90°F or less. Otherwise the leaves will turn to burnt dust in a hurry. You may also wish to separate the berries and leaves and dry the berries at temperatures up to 130°F to 150°F and keep the leaves at the lower temperatures. Keeping them in closed paper bags until you use them to make teas or other recipes will avoid sealing in moisture, which can cause spoiling or mold.
This will give you long lasting berries for use later as well as the first two ingredients of Hawthorn tea. The berries will not keep fresh, so dry those you are not ready to use right away.
Next, wash, sort and de-stem the rest of the berries. You can use the recipes on this page to make tincture, syrup and a lovely savory ketchup with the berries. Now you can measure out your berries and decide for the recipes and decide how much of which you'd like to make. I typically make all three recipes in one afternoon to get the most out of working with the berries at one time.
First we'll make the tincture, because it's fast and easy.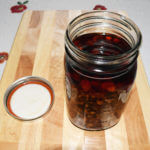 Hawthorn Berry Tincture
Print
Ingredients
1

clean jar

with a sealing lid

Hawthorn berries

to fill to 1 inch below the top of the jar

Everclear or 90-proof vodka

or

organic white vinegar

enough to cover the berries
Instructions
Fill a clear glass jar with fresh clean berries and cover with ever-clear, 90-proof unflavored vodka or organic white vinegar if you wish to have alcohol-free tinctures.

The tincture will need to cure for 4 to 6 weeks in a cool dark cupboard. I just set mine in the lower portion of our dining room hutch, so it's out of the kitchen and away from the heat of cooking.

This afternoon all you need to do is fill the jar to one inch below the rim, pour in the alcohol or white vinegar until the berries are just covered, and seal the jar with a good airtight lid and place it in your cupboard.

Shake it at least weekly for the duration of its stay in the cupboard and watch it turn from clear to brilliant red as time elapses.
Next, we'll start the syrup.
Hawthorn Berry Syrup
Ingredients:
Hawthorn Berries
Water
Raw Honey to taste
Directions:
First decide who much syrup you want to make. Boiling down the syrup takes about twenty times more water than the weight of your berries, so if you're planning on making a quart or more of syrup, you'll need at least a 10 quart pot to hold the water.
Hawthorn Syrup is a well known herbal remedy for coughs, colds, flu like symptoms, headache and strengthening the heart.
Select your berries and weigh them so you know how much water to add to your pot. For simplicity's sake we'll say we are using 100 grams of berries, or 3.5 ounces because that makes it very easy to measure the water. I would suggest using multiples of 100 grams for your recipe. That will mean 3.5, 7, 10.5, and 14 ounces as you increase the recipe. But remember, you need 20 times the water, so unless you have a very large simmering pot, you'll be working in the lower numbers here.
For every 100 grams/3.5 ounces of berries you'll need 2000 ml or roughly 2 quarts of water.
Here is a handly chart to make this easy:
| | |
| --- | --- |
| Hawthorn Berries | Water |
| 100 g / 3.5 oz | 2000 ml/2 quarts, 3 ounces |
| 200 g / 7 oz | 4000 ml /3 quarts, 6 ounces |
| 300 g / 10.5 oz | 6000 ml /5 quarts, 10 ounces |
| 400 g / 14 oz | 8000 ml /8 quarts, 14 ounces |
| 500 g / 16.5 oz | 10,000 ml /10 quarts 18 ounces |
Obviously, getting close to a pound of berries requires a large stock pot.
Hawthorn Berry Syrup
Hawthorn Syrup is a well known herbal remedy for coughs, colds, flu like symptoms, headache and strengthening the heart.
Print
Ingredients
Hawthorn Berries

Water

Raw Honey

to taste
Instructions
Wash and de-stem the berries and place in your pot, add water and cover and bring to a boil. Reduce to a simmer and simmer for 1 hour.

Remove berries, replace the cover and continue simmering the water until it reduces by half. This can take the better part of a day.

When the liquid has reduced to half of what it was after the berries were removed, it's time to make the syrup.

Cool the liquid until it is below 110°F, and add raw honey to taste.
Recipe Notes
As a guideline, I use approximately one teaspoon of honey per pint of syrup.
Next, we'll make the:
Savory Hawthorn Ketchup
This is an amazing sauce to use on winter squash, meats and greens. We love it on pork ribs with collards and kale.
Print
Ingredients
4

cups

Hawthorn Berries

2/3

cup

Apple Cider Vinegar

1/2

cup

Water

1/3 to 1/2

cup

Coconut Sugar

or

1/3 to 1/2

cup

Raw Honey

to taste

1/2

cup

fresh-made organic Apple Juice

or unsweetened

1

tsp

Sea Salt

or as you like

freshly ground Black Pepper
Additional Spices
1/2

teaspoon

Cardamom

1/2

teaspoon

Cinnamon

1/2

teaspoon

Allspice

1/2

teaspoon

Nutmeg

1

pinch

Cayenne Pepper

optional
Instructions
De-stem, wash and drain the berries. Measure out 4 cups and place them in a large saucepan.

Add the water and vinegar.

Cover and bring to a boil. Reduce heat to a steady simmer and cook until the skins on the berries split open (about 30 to 45 minutes).

Allow the berries to cool until you can easily handle them.

Work them through a sieve to remove the skins and seeds.

This is the real work of making the ketchup, and a strong sieve and kraut pounder really help get this done fast. Using a food mill can be very frustrating because the seeds may be too large to allow the mill to turn properly. It's easier to use a mesh sieve and a strong wooden spoon or pounder to smear the berries across the inside of the sieve and push the pulp through. You will still lose some of the pulp in the seeds, but you can get most of it this way.


Once you've removed the seeds and skins, return the pulp to the pan and heat slowly, adding your sweeteners, salt, pepper and spices. The sauce will become quite thick and sticky as it cooks. Let it simmer for another five to ten minutes while stirring constantly.

Remove the pan from the heat and slowly add in the juice, stirring constantly to make a rich smooth sauce. Stop when you reach the consistency you like.

Taste and add additional spices, salt and/or pepper to taste.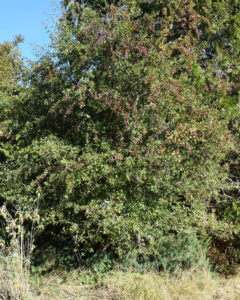 Hawthorn has been used to strengthen the heart and provide healing for centuries. The famous Dr. Christopher Hawthorn Syrup is still sold today and has a large and growing following by those who swear by its healing powers. Now you can enjoy these delicious and healing berries throughout the year with your own berries. Syrup and ketchup will last up to about 3 months in the refrigerator.
When you run out, simply use your dried berries to make new batches. You'll need to set the berries in fresh room temperature water for an hour or so before starting the recipes to re-hydrate them, but then they'll be ready to work as well as the fresh harvested berries of autumn.
References:
Hawthorn Tincture: Seraphina Carranos – Hawthorn: Medicine for the Heart
Savory Hawthorn Ketchup: Gather Victoria – Savory Hawthorn Ketchup: Reviving a Traditional Recipe
Hawthorne Syrup: Dr. Christopher's Herbal Legacy