As the long evenings of summer give way to lower angles of light in late afternoon, the glorious deep blue and rich golden reds of early evening sunsets make an irresistible backdrop for evening meals served on the deck or patio under the sky.
This is the time of year when it seems you could eat everything fresh every day and still never keep up with all that is coming out of the garden. Or, if you don't have a garden, it's the time of year when the huge bounty at farmers market tempts you at every turn with a vast array of fresh and beautiful produce. Melons, squash, eggplants, tomatoes, piles of bunches of fresh herbs and flowers, cabbages, broccoli, potatoes and peppers, there's almost more than the mind can take in.
Eggplant is one of our all time favorites around here – but it just seems too early in the season to go for the eggplant Parmesan. Rather, throughout the late summer and early autumn, the eggplants in our kitchen are roasted in the oven, left to cool and then transformed into our favorite summer dip, or vegetable spread, classic middle eastern baba ghanoush.
Spread it on fresh bread, fresh crisp lettuce, slices of cucumber or zucchini, or, make these delicious treats for snacking or as an exotic side to a late summer supper. The light creamy texture and bright exotic flavor of this dip will make you a fan in short order.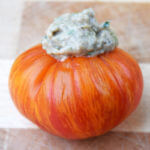 Baba Ghanoush Stuffed Cherry Tomatoes
Combining the zesty bite of lemon juice, newly dried garlic and fresh parsley with the rich creaminess of roasted eggplant, sesame, and olive oil, all tucked into a juicy fresh cherry tomato container, this is a veritable crescendo of summer in flavor and texture.
Print
Ingredients
1

pint

sungold or other specialty high flavor cherry tomatoes

4

medium sized

eggplants

4

cloves

garlic

1/2

cup

tahini

1

large bunch

parsley

4

tablespoon

olive oil

1/2

cup

fresh lemon juice

1

teaspoon

cumin

1

teaspoon

salt

fresh ground black pepper

to taste

1

dash

smokey paprika

and/or

1

dash

chili powder

to taste
Instructions
Poke holes in the eggplants with a fork, place them on parchment paper on a cookie sheet and roast in the top third of a hot 350°F - 375°F oven until they are soft and mushy. This will take from 30 to 45 minutes depending on the size of the eggplants and the temperature of the oven. Turn them once half way through to make sure they soften evenly.

Place the cookie sheet on a rack and let the eggplants cool until they are warm but not too hot to handle.

Remove the eggplant stems and leaves if still attached, and scrape their insides into your food processor. You can include the skins if they are soft but avoid hard spots or tough skins. Pulse the food processor until the eggplant is well chopped to chunky consistency.

Mince the garlic and parsley and add it to the eggplant. add the tahini, and begin pulsing the food processor as you drizzle in the olive oil and lemon juice. Add the spices and condiments and set the processor to medium for 2 to 3 minutes, stopping and scraping the sides once or twice if needed. Test for consistency. Add more oil and/or lemon juice if it is not creamy enough.

The finished dip should be creamy and light but well bodied. Add additional seasoning to taste.

Core the cherry tomatoes by cutting out a funnel shaped piece from the stem portion of each tomato and fill with the dip. Serve at room temperature.
Recipe Notes
You can chill the dip and use it chilled in the cherry tomatoes, but don't chill the tomatoes, as this will destroy their amazing flavors!