This year I've finally gotten the whole "soaked grains thing" down. We've been getting our raw pastured milk now for going on three years, and after mastering the art of whey making and an extensive exploration into fermented goodies like pickles, sauerkraut and carrots and ginger (my personal fave) it was time to get serious about soaking grains.
Now, I had done the "beans thing" – in fact I've been doing that just about as long as the "fermented goodies thing"… I am an expert at hummus and soaked black beans and all kinds of delicious concoctions using soaked beans… But somehow the idea of soaking flour before using it to make bread just seemed, well, daunting.
I guess I put it off because it seemed like so much more work than simply baking a great loaf of bread. The beans should have given me a clue – but nope. It didn't happen.
So imagine my surprise when I spent an afternoon over at Weed 'Em and Reap's site browsing DaNelle's soaked bread recipes and then, upon deciding to try one, mixed up a batch of soaking flour before bed and made the most amazingly light and delicious whole grain bread the next afternoon without a hitch. Well, knock me over! That was easy! 🙂
So, of course I decided it was time to get a little more adventurous.
I was rendering beef kidney fat for bird feeder suet and tallow for hand cream and a potential fling with tallow candles, and I thought… why not make tortillas with tallow?
I went to DaNelle's recipe, because now that I've made a few of her recipes, I'm completely confidant in her instructions – everything she writes is simple and leads to a great result – so off I went to get her tortilla recipe.
I started the flour soaking in the evening, and made the tortillas the next day.
I got the tortillas going while I whipped up some veggies and a little bit of ground sirloin in a pan, and then tossed them into a bowl in the oven to keep warm while I finished up the tortillas and scrambled the eggs.
What a GREAT dish!
Thanks, DaNelle, for that superb tortilla recipe. I'll get better at rolling them out – but they totally worked and were delicious! I'm going to pick up some lard at the butcher this weekend and try them again with lard this time – just to see how they taste. Can't wait to make this meal the next time the kids come to visit! What a terrific Sunday brunch idea!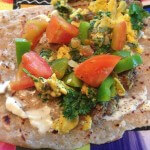 Homemade Breakfast Burrito Recipe
Print
Ingredients
3

Organic Green Onions

1

Chunk of Organic Leek

3 inches

1/4

lb

Ground Grassfed Sirloin

3

Large

Crimini

or Button Mushrooms

1/2

Large Bunch of

Organic Parsley

1/2

Organic Green Pepper

1/2

Organic Tomato

5

Eggs

1

Heaping Tablespoon

Turmeric

Salt and Pepper

to Taste
Instructions
This recipe will require you to move back and forth between rolling out and cooking your tortillas and prepping and cooking your vegetables and eggs. It is a bit of a trick, but if you just keep moving it will all work out. Do not try to add things like unloading the dishwasher or setting up the table once you get moving here, your hands will be messy; your food will be cooking and it just won't work. Call whoever is eating with you to do those things when you get the eggs into the pan.

Preheat oven to 275, and place a plate for the tortillas in the oven to warm.

Finish the final step of the tortilla dough - adding the salt and working it in for five to seven kneads; then set it to rest. Get out your arrowroot powder and rolling pin and set up the tortilla making station.

Wash and pat dry the vegetables. Peel the outer skin of the leek (one ring only.) Chop all the vegetables into 1/2 inch chunks, keeping them in separate piles. Pinch the florets off the parsley so you have all tops and no stems.

Sprinkle a medium skillet with good quality high mineral content salt and brown the sirloin broken up into bits. As soon as it is browned on the outside, add the leek and green onion. Stir continuously for about a minute or two until the onions are getting soft; then pull the meat and onions to one side and toss in the mushrooms. They should take up about half the skillet - let them start to get hot. Flip them over once so they are starting to get slippery and wet (starting to weep) then gently toss the meat and onion over the top of them. Turn the temperature as low as it will go. Throw in half the parsley on top and slide a cover over them. Let them cook for about three minutes more, then transfer them to a warming bowl in the oven.

Place a large dry skillet on medium high heat on the stove to be ready for the tortillas. Once it is hot reduce the heat to medium to keep it hot without scorching. You may need to remove it from the heat every now and again, depending how quickly you roll out your tortillas.

Cut the tortilla dough into eight pieces and roll them in your hands with a bit of arrowroot powder to make them into balls. Set them on a clean surface not too close together and begin to roll them out one at a time. Roll the tortilla out, use a spatula to lift it up, and 'toss' it into the pan so it lands flat and spread out. This takes practice; if you've never done it before, go slow at first. You want the tortillas REALLY thin, but not so thin that they tear or disintegrate. If you want to make it easier on yourself, pause before you go on with the rest of the meal to chill the dough balls in the refrigerator for 15 to 20 minutes.

Place the tortillas in the pan one at a time and let them cook until they begin to look slightly translucent and stiffen somewhat. You will know when they are ready to flip as they will be able to BE flipped. If it is too soon they will be so soft you cannot get the spatula under them properly. They will need a minute to two minutes per side depending how hot your skillet is.

When the first one is done, place it on the plate in the oven and put the second one in the pan. As soon as you have one in the pan, roll out the next one and then get back to your veggies.

The vegetables should go into the oven right around half way through making the tortillas.

Now, put the peppers and tomatoes into the pan you just took the other veggies out of and heat them up. Then put them in their own bowl in the oven.

Rinse out your veggie skillet, give it a wipe and put a tablespoon of coconut oil or unsalted butter into it and put it over medium high heat. As it heats, whip up your eggs and the turmeric.

When the pan is sufficiently hot add the eggs, and pull them across the pan with a spatula once. Then add the second half of the parsley and pull them across the pan again. Give them a stir all around to distribute the parsley and then add all the vegetables and sirloin from your warming bowl in the oven. Keep the tomatoes and peppers aside in deference to those who are sensitive to nightshades... (Personally I adore them and eat them every chance I get, but some people cannot eat them).

Give the eggs a good stir and keep them moving and incorporate all the other ingredients so that it is all well mixed. Put them on a large serving plate and bring them to the table with the tortillas.

Serve out the tortillas, spoon on the egg mixture and eat up!
Recipe Notes
Have a good home-made mayonnaise or vegenaise on the table and a nice piece of cheese and a cheese grater. Parmesan and cheddar are both great additions to this meal.