It is Spring in the Pacific Northwest and a long and lovely Spring it has been, too. This year we've had the longest Spring I can remember, with bouts of sunny warm days inter-mixed with showers and storms all the way back to February. Incredible weather, to be sure.
All that sunshine and rain has meant a long and luscious Spring grass season for local pastured dairy animals and chickens, and creating what traditional peoples around the world have long known to be the most important and nutrient dense foods of the whole year. Our pastured milk, butter and eggs are the most amazing nutrient rich foods when they are filled with the lush high chlorophyll of new Spring grasses. The yolks of the pastured eggs are a deep orange, and the milk and cream is almost yellow, and just bursting with the rich nutrition of Spring.
Stock Up or Eat Up – But Don't Miss Out on High Vitamin and Mineral Rich Pastured Dairy of Spring
Many people freeze Spring butter to retain this high vitamin A, D and K content food for use throughout the year, and there's no question this is the time to stock up, if you can. But even if you can't stockpile, it's the right time to eat well, and to feed your little ones as much of this goodness as possible.
We've been feasting on fresh raw butter we make from our pastured cream, and spreading it over fresh steamed dandelion, baby kale leaves, and tender turnip greens. This is a great way to get all the power of those great minerals and nutrients into your body. Eating any of the high energy baby cruciferous greens this time of year dressed with fresh pastured butter, cream and even egg, is one way to turn your garden into a superfood producer.
Steamed or Creamed, Baby Cruciferous Greens and Pastured Dairy Offer a Bonanza of Good Health
Steamed Spring greens are ready in a literal flash. They are so fresh and tender that 1 to 2 minutes in a steamer that is boiling is all it takes and you're ready to eat. So if time is not on your side, this is the way to proceed. It's also just about fool proof. Boil some water, rough chop the greens, throw them in a steamer pot and pop the lid on. By the time you tidy up the counter, they're ready to eat. They are a great addition to any meal and can be added just before you serve, so long as you get the water boiling either in the pot or in a kettle. If you use the kettle you can blanch them first. just by pouring the hot water through them into the steamer pot, that cuts about half your cooking time. Otherwise, place the greens in the steamer pot and set it on the heat and you'll need two to three minutes once the water is boiling. You can take them off the heat and let them stand for another minute or two as you are serving, either way.
Add Lemon Juice and Zest for Zing (& Vitamin C, of Course!)
While you get ready to serve, zest half a lemon and set the lemon and zest on a little dish for the table so everyone can add a pinch of zest and squeeze fresh lemon on their greens. Get your fresh butter on the table too, and so a nice pat can be slipped into the middle of each serving of greens to melt through them.
The steamed greens won't have as much pastured dairy, but the richness of the high vitamin butter will do all the heavy lifting here. Best of all, no matter which of the early Spring greens you choose, this is an absolutely delicious way to prepare them. Try them all. Baby broccoli is a wonderful choice, or its close cousins broccoli raab or rapini. One caveat about baby broccoli, watch out for tough stems. Remove the base of the stem if it's tough or peel the stem.
Include Dandelion in Your Greens
Early dandelion greens make a great addition to any steamed or creamed greens dish, adding increased calcium, vitamins A, E and K and a good dose of iron. There is also growing evidence that dandelion greens inhibit inflammation, which is always a plus. Best of all, if you have a chemical free garden and yard, they're plentiful and free!
[Unfortunately, because the dandelion has been the target of American lawn chemical companies for decades, you must pay close attention to where you pick the greens you intend to add to your table. Unless you have an organic garden source of your own, you will need to locate a safe source. Just picking dandelions in the general outdoors, particularly in urban and suburban settings can be a health risk for pesticide and herbicide consumption. This is particularly tragic when you consider that dandelion flowers are a favorite food of bees.]
If you do have a chemical free garden to pick from, the dandelion's plentiful leaves make it easy to pinch off a few from each plant and quickly gather plenty for a whole family.
Steamed or Creamed It's All Good
Other early greens from the garden, including kale, spinach, Asian cabbage, chard, bok choy, collards, and any number of others can round out your steamed or creamed vegetable dish and create a lovely and interesting range of flavors.
Take the most tender of the greens for these dishes, including new and emerging shoots. When using larger leaves, devein them, if necessary to remove tough stalks. Early enough in Spring, this will not be necessary.
The Recipes
Super Easy Steamed Spring Greens with lemon and fresh pastured butter
Print
Ingredients
1

large pile of

baby spinach

or kale or other baby greens (about 16 ounces)

2

good sized fist fulls of

dandelion leaves

6 to 8

good sized 10 inches or taller

young swiss chard leaves

6 to 8

good sized 8 inches or taller

young kale leaves

Zest and juice of 1/2 lemon

4

pats

unsalted pastured butter

salt and pepper

to taste
Instructions
Zest half the lemon and cut it into four wedges. Set the wedges and zest on a small plate on the table to sprinkle on the greens when served.

Wash and shake out the greens, until they are clean. Partially esteem to remove any thick or tough stems or parts of stems.
Prepare your steamer:
Set a medium large covered saucepan on the stove on high heat with about one inch of filtered water and a steamer basket in it, or, put on a kettle of water to boil and set up your saucepan with steamer basket and leave it off the heat.

Roughly chop the greens and place them in a ring around the steamer basket. Completely over-fill the basket as they will shrink dramatically when steamed.

If adding greens to a pot of boiling water with the steamer basket in it, just use tongs and fill and keep filling the basket until the greens are all in, then put the lid back on and let steam for 3 minutes. If you're using the kettle, pre-fill the steamer basket by adding and just pressing the greens in until they are all fitting under the lid. When the kettle boils, lift the lid and pour the boiling water over the greens until there is about one inch of water in the pot, or to just below the bottom of the steamer basket, and place the pot on high heat, cover and steam for another minute or two.

Remove the pot from the heat and leave it covered until all the other parts of the meal are served on the plates. Then serve the greens and place a pat of fresh pastured butter in the middle of each serving, covering it over with the hot greens so it melts right away. Serve at once and sprinkle with zest, squirt with lemon juice, and eat. Add salt and pepper if desired.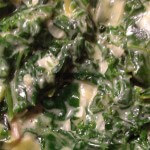 Over the Top Creamed Spring Greens
Print
Ingredients
4

tablespoons

unsalted pastured butter

1/2 stick, separate into 2 sets of 2 tablespoons

1/2

medium sweet onion

vidalia or other sweet type, in the Northwest its a Walla Walla onion

3

cloves

garlic

3

tablespoons

organic all purpose flour

2

lbs

fresh Spring greens of your choice

1/2

cup

pastured cream

1

dash

allspice

1

dash

nutmeg

salt and pepper

to taste
Optional:
1

pastured egg yolk

separated
Instructions
Wash, shake, steam and chop the greens finely. Set aside.

Mince the onion and garlic.

In a large skillet, place 2 tablespoons butter and turn heat to medium high.

When the butter in the pan has foamed up well and is settling down, add the onion and stir well for a minute. Add the garlic and continue stirring and cooking on medium high heat for another 2 or 3 minutes until the onion and garlic is soft, fragrant and translucent but not browning. Turn the heat down if necessary to keep the onion from browning. Add the additional butter to the onions, and after it has fully melted whisk in the flour and cook for another 2 minutes, stirring the entire mixture constantly. Add the finely chopped greens and cook until the liquid is released from the greens. If you're using the optional egg yolk, whisk it into the cream now. Add the cream, allspice and nutmeg and continue cooking until the liquid is reduced by about half. Salt and pepper to taste. Serve at once.