Looking for a way to enjoy summer's harvest? Try these simple Homemade Soaked Pita Veggie Wraps!
Soaking flour with a little vinegar is a great way to get the nutrition of the grain without the anti-nutrients of the phytates. It's easy to do, and the soaking time is variable enough that you don't have to worry if your schedule gets thrown off. You can soak them overnight or for part of the day. If you love pitas like we do, make a double or triple recipe and freeze it for easy pitas anytime.
These pitas are perfect for summer garden veggie wraps, something that inspires gratitude for summer and for the home vegetable garden all in one delicious meal.
If you're not lucky enough to have a home garden, not to worry. A few easy to find and very budget friendly ingredients from the local market make these a tasty delight. Make twice the number of pitas needed and toss the extras in a Ziploc or sealed container in the fridge and you can reheat them for a second delicious meal with half the work, too!
The other wonderful thing about this recipe is that you can use up all your vegetable leftovers in one great feast. Some of the most surprising, and delicious ingredients include cold leftover cooked cabbage and/or cauliflower, cold leftover green beans chopped to bite size pieces, leftover salad stored without the dressing, or heated leftover quinoa.
The magic in these wraps is the assortment of vegetables you can use and the directions in flavor and culture you can explore. The fresh herbs can lend a Greek, Asian or Mexican flare, especially if you include things like yogurt based dressings, toasted sesame oil or salsa in the mix. Every time you make these you can have a completely new and unique experience.
Dressings can also be optional if you use left over dishes with sauces. Or, go for a light summer fair without the heated leftovers or protein and just let everyone build their own versions with dressings and ingredients of their choosing.
Anything goes, from sour cream to salsa to pickled ginger and sesame oil, the sky is the limit on these babies.
The only challenge will be deciding which one is your favorite!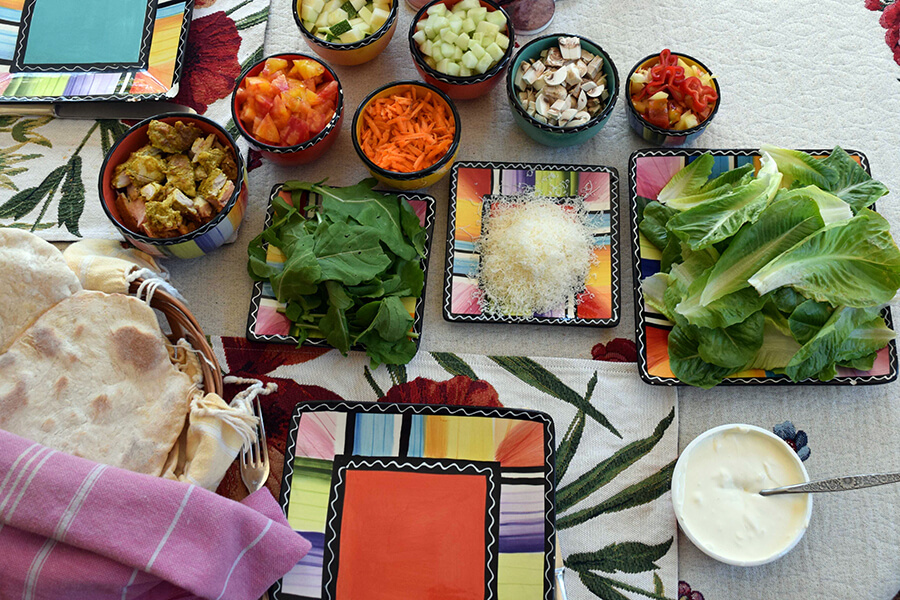 Ingredients for Pitas:
2 cups organic all purpose flour (or other organic heirloom grain flour of your choice)
3/4 cup room temperature water
1 tablespoon apple cider vinegar
2 teaspoons active dry yeast
1 1/2 teaspoons virgin olive oil
1/2 teaspoon good sea salt
Ingredients for Wraps:
1 cup chopped fresh tomato
2 small or 1 medium cucumber, sliced thin or cubed
1 medium summer squash cut into small cubes (zucchini, cube of butter or patty pan work great)
3 medium carrots, scrubbed and grated
1/2 cup green onions, chopped fine
Greens
1/4 head shredded green cabbage
1/2 romaine lettuce chopped to small pieces
Large bunch of arugula, chopped to small pieces
A few handfuls of baby spinach leaves
Garnish
A generous handful of any combination of fresh herbs piled on a plate
Mint, basil, oregano, lemon balm, sage, savory, sweet marjoram
Optional
1 cup cooked chicken cut up into small pieces and heated in a pan with your favorite sauce. Left over curry peanut chicken is a delicious choice.
Optional Condiments to Consider
Sour Cream
Mustard
Hummus
Salsa
Green Goddess dressing
Toasted Sesame Oil
Pickles
Pickled Ginger
Sauerkraut
Directions for Pitas:
In a bowl, combine flour and 1/2 cup of the water, and apple cider vinegar. Stir gently to mix and cover with a sealed lid or plastic wrap so the bowl is air tight. Allow to rest for at least 6 hours.
Place the flour, water and vinegar mixture in a mixer bowl, add the additional 1/4 cup water, yeast, olive oil and salt and knead with dough hook on medium for 2 to 3 minutes. Alternatively, you can knead the dough in a mixing bowl with a wooden spoon or silicone spatula for about 5 minutes by hand until smooth and elastic.
Cover the bowl and place in a warm (oven light on, no heat) oven for 1 hour, or until doubled in size.
Twenty minutes before the dough is finished rising, prep your vegetables and greens, so they are ready to be set out on the table.
After the dough has risen, remove it from the oven.
Place a baking tile or stone in the bottom of the oven, and remove the top rack so you can easily move the pitas in and out from the baking stone as you bake. Preheat the oven to 475°F.
Remove the dough from the bowl with a spatula onto a floured board and form it into a rectangle. Cut into six equal squares, placing the squares on a separate board or on a piece of parchment paper on the counter.
Allow the squares to rest for 5 to 10 minutes while the oven preheats.
Roll each square into a rough circle of 6 to 8 inches, rolling out 1 or 2 at a time. Open the oven and gently toss one pita dough onto the baking stone. Close the oven and set the timer for 2 minutes. Roll out the next pita.
When the timer beeps, flip the pita in the oven with a long-handled spatula and set the timer for 1 minute more. Or, throw in the next pita and set the timer for 2 minutes, and then watch the first one around 1 minute in to see if it is ready. Each pita will need between 3 and 4 minutes total baking time. They should be very slightly browned and puffed up when they're done.
Remove the pitas to a bread basket or plate with several dry clean dish cloths to keep them wrapped and warm.
Place everything on the table and serve when the pitas are finished baking.
Unused pitas will keep in the refrigerator in a sealed container or Ziploc bag for a few days. They are great warmed up in the toaster oven, just remember to set it on bake and no hotter than 300 degrees for just a few minutes or they will turn into crackers!